---
Dateline: 11.11 26 Aug 1996
Location: Czech Republic, Praha, Vrchlického sady
---
My flu is gone, or at least almost: my exhaustion threshold is still (way) lower than usual and my stomach feels funny, but I suspect both are caused solely by the near-starvation rations of food I've been eating, especially yesterday when I ate no solid food except at breakfast. This calls for a good lunch later today, but right not, it's touristik time. 12 hours left to see all of Praha before my train leaves.
---
Vltava is not particularly Vltava (sorry, another Finnish pun), but it's pretty big alright, and while less than breathtakingly beautiful it's still pretty pretty, moderately clean sea-green water with lots of swans and ducks quacking around. Oddly enough, there are some gulls as well, although we're a thousand kilometers from sea. Yet another small mystery of Mother Nature.
---
Praha is the most over-touristed town I have ever seen, not even København came close. Of any 10 people walking on the streets of the Old Town, I'd wager 5 are toursits - and it's not even peak season any more! A steady flow of touristianity drains across Karlovu most. Are they all here just to live like kings thanks to the low Czech price level? So it seems... blah.
---
Another gorgeous subway station: A-line in Muzeum. This time the walls of the tunnels were covered with blocks of different metallic colors, a dilute rainbow of orange, red, brown, light blue... and in each block there was half a sphere, either indented or sticking out. All of this was lit with flourescent lights and wow, what an effect when standing inside it. Coolness incarnate. It appears that most other stations on the blue line have the same decor, but Muzeum's is the best of the ones I saw.
---
The Hitchhiker's Guide to the Galaxy's words regarding the utility of a towel may seem odd to the unacquainted, but even when in the old quarter of Praha instead of the swamps of Sqornshellous Zeta, the uses of a towel are practically unlimited. Right now, I'm simply sitting on it, on the lovely green grass in a little park near Prahzky grad. Crosslegged with my shoes off, too, so my aching feet get some rest. Sunglasses, water bottle and towel - that's all you'll ever need. After all, walking around with your wallet stashed in the train station locker makes life a lot cheaper, too. =)

PS: I note that on the paper version of this diary, this entry happens to be on page 42. Is this the key to Hector the giant computer's esoteric answer - is the towel the Answer to Life, the Universe and Everything?
---
Well, well. Given my flu it's been about the spiffiest day imaginable. Except perhaps the visit to Prazky grad... Granted, the place was very pretty and Sveti Vita's cathedral absolutely gorgeous, the coolest church I've ever seen... please excuse the surfer-dude vocabulary, there's an explanation coming up soon enough.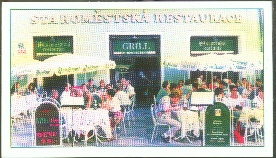 Anyway! After this little excursion, I headed back to town to find a place to eat, as I was absolutely famished - the few places I had consulted earlier were way too expensive or already full. I ended up going to a place recommended by Nakamori-san earlier, and lo and behold, who was there but Nakamori-san himself! Given the size of Prague and that it was already around 3 PM, not exactly the likeliest of happenings, especially since he came in just a few minutes after me to find me standing in line. The restaurant's name was Staromestska restaurace, and the food was delectable, if a bit on the expensive side by my standards at 180 Kc (almost 9 DM! gasp!). In the ripoff of the century, a bottle of water clocked in at 45 Kc, three times the price of beer. And I thought I was going to save a few pennies by buying it... but no matter. We then hung out for the rest of the evening, shopping, net-surfing and attempting to metamorphose into vegetables in parks. But at 18:45 it was time to leave, since I had spotted that Radost FX had a Free Movie Night. Time for another chapter!
---
The first 'movie' shown was some Beavis & Butthead, originally I was afraid I'd have to put up with 2 hours of the army adventures of Major Hickey and Private Parts ("uh-uh-uh, cool"), but soon enough it stopped (still leaving its mark on the literary style or lack thereof in these pages though). The feature of the night was "Vampire in Brooklyn" and let's just put it this way: I can see why it flopped at the box office. A movie can be a horror movie, or it can be a comedy, it can even be a horror movie spoof, but it can't be both scary and funny at the same time. And it was predictable too... but no more gripes, this was free after all! What I really wanted to scribble about is Radost FX itself...
---
...and FUCKIN' A is all I can say. I mean, sheet, this place beats any club I have ever seen hands down. The staff and the people are nice and the decor is un-fucking-believable: everything custom-designed (presumably by art students?) but still comfortable and spiffy. Every room is different. The dance floor was packed with more gear than all of Helsinki's clubs combined. Entirely insane... why, oh why, didn't I come here on Thursday, when they would've played real techno instead of cheez-o-popdiscohouse? Sniff. BTW, a tip for the uninitiated: Radost is actually a huge complex of everything (cafe, cinema, club, etc). To get to the techno/free-movie "FX" area, head down the stairway marked solely with WC(!) signs, past the cloakroom down another stairway and wham, there you are. The main dance floor is past the bar to the left, but come late enough and finding it using only your ears would not pose much of a problem. Almost everybody in the place speaks ánglický, too, and it's the place to hang out for techno freaks and young expatriates. Get in early enough, and it won't even cost you a cent, although you will be nice and buy a beer, won't you? Of course, the price you'll pay is that everybody clears out after the movie ends and they only start to filter back as midnight approaches... but they'll be back, so just relax und watchen das Blinkenlights. Who needs Berlin anymore?
---
I just realized I've never heard jungle in a club before, and now here I am, watching Sinead O'Connor on TV backed by a jungle beat. Grooby.
---
And now I'm watching some hideous group called Roxy Music perform 'live in Firenze'. Guys in white leisure suits singing guitar-pop? Un-grooby. I will give Radost exactly 10 minutes to get something decent on, and if they don't... I'll go ask them what's up. This sofa makes me want to sleep. Perhaps I'm not in the best of party moods?
---
Waiting for your train to leave is always so boooo-ring. I don't suppose this is exactly what the KLF had in mind with "4 A.M. Eternal", but it fits well enough. I really need to go buy their record Chill Out already, before the sole European license for making them expires.
---
I guess the basic problem - or at least one of them - is that I don't want to leave Radost FX's cozy atmosphere for the Czech-Communist garbage dumps of Hlavní nádrazí and Holesovice, but what can I do here then? Nothing, except scribble in this diary... or go get a beer. Calories are Good(tm).
---
Calories indeed, 1580 kJ/L. Why did I buy this? I hate beer, even if Czech beer is (much) better than most. But being an almost-teetotaler, even a dose or two - like this bottle - will produce enough of a buzz to make things just a bit nicer. And this stuff is almost good... at least once you've drunk enough of it. Anyway, Nakamori-san did suggest that I go out and drink to spend my remaining 400 Kc; at this rate, I'll have to drink 12.5 more to dispose of it all.
---
Whoo, fuck. I can literally feel this stuff going to my head. Better chill out: alcohol on an empty stomach hits fast, but pulling out my bananas and start to munch on them here would be politically incorrect...
---
This Roxy crap is absolutely hideous. Where's the zarking TEKKNO... HERE! Holy shit, nice timing, exactly at the same moment that I wrote "TEKKNO" the beat started. Hasta la vista, doldrums!
---
For a while, anyway, I'm back to Holesovice already. (I may scribble away at a bar counter, but doing so on the dance floor would require a bit too much coordination...) So what happened? In addition to the gorgeous beats of house - it may shock some, but I'm actually starting to like house! or maybe it's just hardcore deprivation syndrome? - an absolutely incredible video of 3D computer animation came on, all specifically intended for playing as a background to house (it had its own soundtrack, but I don't think it was being used). Aah... I would've gotten on the dance floor and bounced around, even though there was nobody else there, but my eyes were peeled to the animation and, besides, I was too tired/sick. So I contented myself with lying back on the sofa-thing and tapping everything along to the music. Passively ecstatic.
---
And finally, today's Czech product: "HELLO"-brand raspberry juice. Aside from the wonderfully inventive and spiffy, not to mention intelligent name, there's another reason for this award: this so-called 'raspberry' juice contains precisely 0% raspberry juice, with apple juice concentrate as #1 on the ingredient list and several dozen suspicious chemicals afterward. As you may already have guessed, this stuff tastes absolutely hideous. And to think that for a mere 0.50 Kc more I could've gotten a can of authentic no-flavors-added apple juice. A classic illustration of the faults of saving in the wrong place, especially when paying the difference would've cost me a whopping 3 pfennigs extra.
---
It's fucking COLD here! How come it keeps getting colder the further I go down south?

---
The day's budget
---
Next / Previous / Index